From Locum to Resident: Ankit's Optometrist career journey
One of the biggest weigh-ups for Optometrists is deciding whether a locum or resident position is best. There are pros and cons to both, so what's the right decision for you, might not be for the next person. For Ankit, making the move from locum to resident was one of his best career moves to date.
After working as a locum Optometrist for several years, he decided it was time for something different. Vision Express had been on his radar for some time, so when he found a role that worked for him, he knew he had to jump at the chance.
We caught up with him to find out what led him to that decision and why he chose a resident Optometrist role at Vision Express.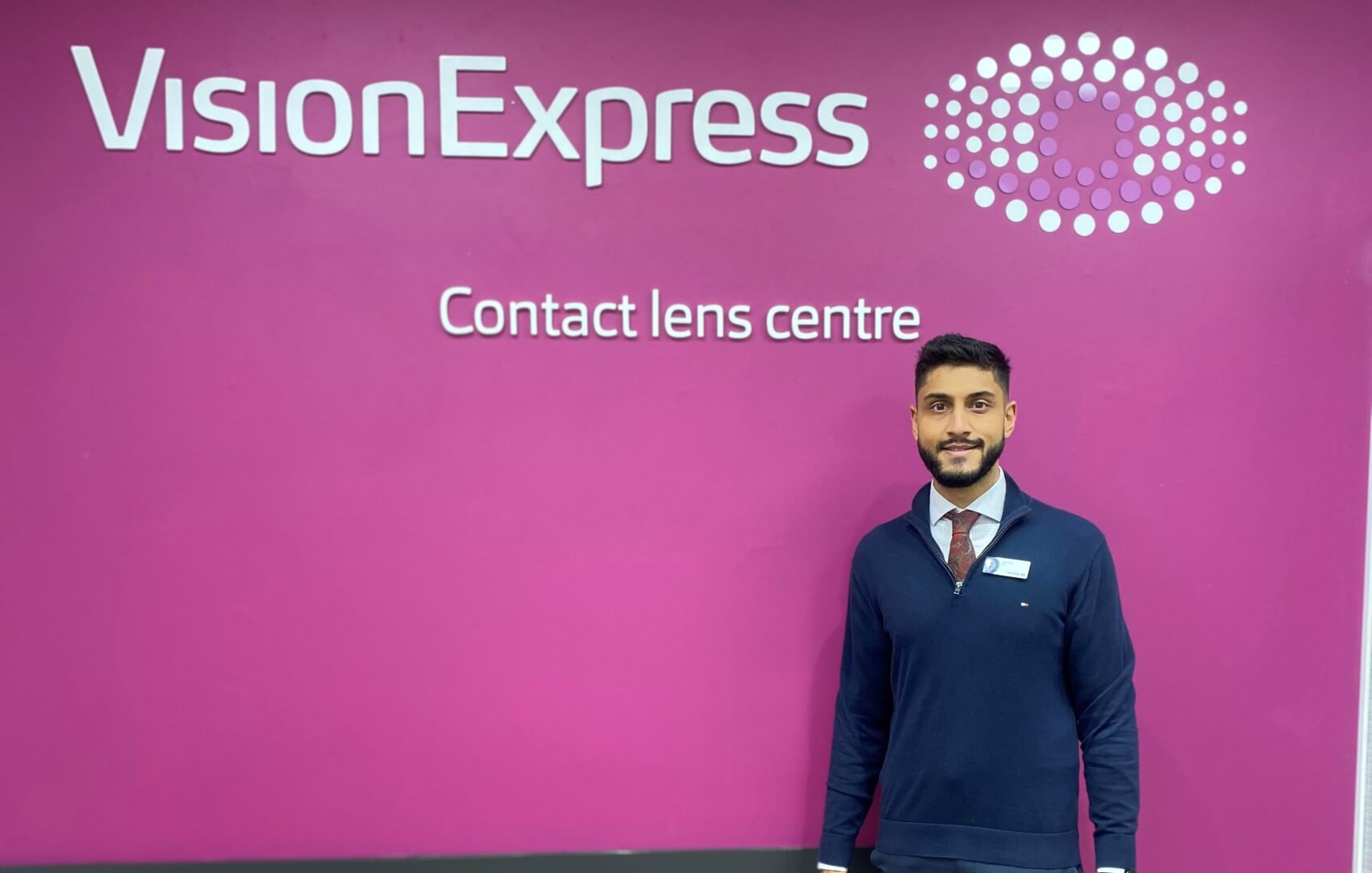 What are the top three benefits of being a Resident Optometrist?
A bonus scheme which rewards the whole team for the hard work they put in throughout the month. It is linked to distinct KPI figures which makes it varied but also fair as month-on-month performances will be different.
Being a resident, whether it be in a solo testing store or part of a larger team, you are one of the main decision-makers on clinical judgements. This gives you a sense of responsibility and a heartwarming feeling because you are really making a difference to a patient's eyesight. You also help optical assistants and managers in their development, whether it's understanding more about common eye pathology or giving advice on how to take a good PD measurement. This gives me daily job satisfaction.
Another benefit is the continuity of care we offer. As a resident, you see patients who may require subsequent visits for contact lens fitting or ongoing issues. This enables you to complete the patient journey and further your development as you can learn from rechecks or returning patients.
How has the move from locum to resident impacted your career?
Straight after my pre-reg placement, I worked as a locum optometrist for six years at multiples and smaller independents. As rewarding as an optometrist job is, my career felt stagnant and started looking for other roles within optometry. I knew having experience as a resident would open opportunities in a prominent multiple. Recently, I have taken on the role of a Professional Development Tutor. I get to engage with pre-reg students and supervisors to create a community and guide them on their journey to become newly-qualified Optometrists. I'm developing new skills in communication and management, which will hopefully help me to move into more senior positions within the company when the time is right.
Why did you choose Vision Express over other optometrists?
I first worked for Vision Express when I was aged 16, so I have always had a sentimental tie to the company. After the acquisition of Tesco Opticians - where I was predominantly based - I knew it was the right fit for me. Vision Express, being a well-established multiple, has the latest technology available, and the system is streamlined. There is a broad network of people who are around to give any advice, whether it's from professional services or the learning and development (L&D) team.
The main reason I worked as a locum optometrist was because of the flexibility to travel. I negotiated a fair contract with Vision Express, which lets me travel but also be part of a large, growing company with many employee benefits, including private health care, free eyewear and friends and family discounts.
Develop your Optometrist career with Vision Express
So, where do you want to take your Optometrist career? If you're like Ankit and you want an opportunity that will stretch you, then we could have something for you. At Vision Express, you'll be a part of a diverse network of eye care professionals who you can learn from. Despite our size, we have a distinct brand and culture where you're supported to be at your best.
Browse optometrist careers at Vision Express and take your next career step with us. Or, you can submit your details, and we'll be in touch to discuss your career options with us.
posts
Life at Vision Express

Starting in Optometry? What to include in your CV
Summary
Optometrists are professionals with a lot of knowledge and as an optometrist, your CV needs to reflect that. Your CV is how you get your foot in the door and is your first impression on your potenti





What equipment is used in a standard eye care test
Summary
When you think back to your last eye care test, what does your memory conjure up? You probably remember being asked to look at a Snellen eye chart and list off the letters as they decrease in size w




View All News