A day in the life of an apprentice at Vision Express
So you want to know what a day in the life of an apprentice at Vision Express looks like?
We know just how important it is to have all the information about a role before applying, which is why we spoke to Amna. Amna is part-way through her Level 2 Optical Assistant Apprenticeship, balancing her time between studying and working at our store in Tesco Coventry Phoenix. She has been a part of the team for just over a year and has already seen her confidence grow by leaps and bounds.
Like Amna, you can work in a supportive environment as you gain the expertise and confidence you need to become a registered optical professional. It's a great career path to go down because around half the planet will need glasses by 2050, so having a strong workforce of trained eye care professionals is becoming more and more important.
Read on to learn more about what the average day looks like for Amna, and hear her advice for anyone thinking of applying for an optical apprenticeship at Vision Express.
Can you explain a typical day as an apprentice at Vision Express?
"There's no such thing as a typical day at Vision Express. I spend a lot of time with people from all walks of life, who have different needs and desires. I health screen patients, book appointments - following the three-way handover system - and help customers choose glasses and lenses.
Also, there are a few general tasks, like cleaning and confirming appointments, that keep me busy throughout the day."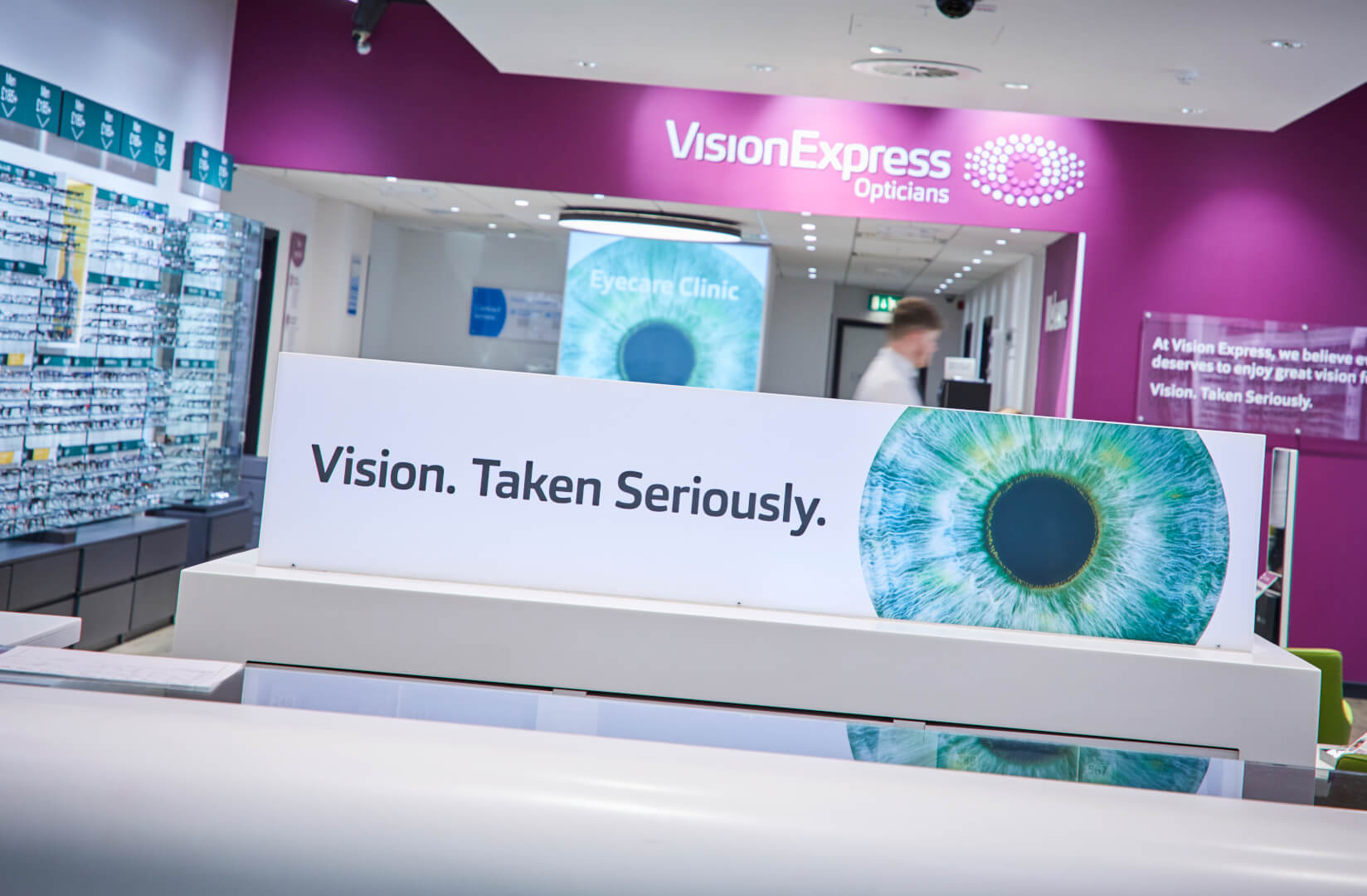 What is your favourite part of your job?
"My favourite part of my job is interacting with different people and working hard with my colleagues to deliver a flawless customer journey. Interacting with my colleagues on a day-to-day basis is never boring because there is always something to smile about.
Promoting our great range of products has helped build my confidence. For example, I'm now aware of how good Essilor lenses truly are."
What has been your proudest moment so far at Vision Express?
"My proudest moment has to be when I first dispensed a pair of varifocal lenses with all the cosmetic and ophthalmic extras. I was very nervous but I felt a big change in my confidence afterwards because I knew I was more than capable of achieving my personal goals."
What have you learnt since joining Vision Express?
"There is much more to people than meets the eye. I have also learnt that I have a deep desire for helping people with their health needs. Furthermore, I have noticed I have natural social skills when it comes to managing people's needs and expectations."
Do you have any advice for someone interested in applying for a similar role to know?
"For anyone interested in a role similar to mine, I would like them to know that even though it's a fulfilling role with great opportunities, you need to have great perseverance and truly care about people's wellbeing."
How do you like to spend your time outside of work?
"I make sure I have enough time for my own needs outside of work, such as relaxing at home and spending time with family and friends. One of my favourite things to do is to lay on my sofa for a couple of hours with ice cream in my hands and watch stranger things with my mum. It's the little things in life."
Find out more about our optical apprenticeships
If Amna has left you feeling inspired to help deliver excellent eye care, why not see if you could be a good fit for our team?
Our 13-month apprenticeship programme allows you to earn a wage, and access great benefits and leaves you with a Level 2 Optical Assistant qualification. But you won't go it alone. You'll have our full support and could secure a full-time position with us after qualifying.
Explore Vision Express apprenticeships to learn more about how you'll be involved in shaping our success.
posts
Life at Vision Express

Starting in Optometry? What to include in your CV
Summary
Optometrists are professionals with a lot of knowledge and as an optometrist, your CV needs to reflect that. Your CV is how you get your foot in the door and is your first impression on your potenti





What equipment is used in a standard eye care test
Summary
When you think back to your last eye care test, what does your memory conjure up? You probably remember being asked to look at a Snellen eye chart and list off the letters as they decrease in size w




View All News
We are sorry but your search has returned no results.
Please try some of the links below to find what you are looking for: