Why become an Optical Assistant
Optical Assistants play an important role in the eyecare profession. Unlike Optometrists, they aren't directly responsible for examining eyes however they are vital in supporting our customers by assisting them with choosing lenses and frames, as well as answering any questions that a customer may have. It's a demanding role in a busy environment where you'll also be managing appointments and confirming bookings.
Our Optical Assistants are usually the first point of contact for customers, helping them with their needs throughout the day. It's often the stepping stone to a career within optometry. Below, we discuss the role of the Optical Assistant in more detail and why it's such an important part of our success:
Working in the optical sector
As an Optical Assistant, you'll have more responsibility than the usual in-store or customer service role. You'll need to have expert knowledge of all the different products, as well as strong well-developed interpersonal skills because you'll be interacting with a wide range of different people. Optical Assistants advise our customers on the best suitable frames and lenses depending on their lifestyle and medical requirements, as well as informing customers about the proper use and handling of contact lenses.
It's a role that combines both technical knowledge and customer service skills. Becoming an Optical Assistant gives you exposure to the eyecare profession early in your career, where you can develop knowledge that will help you progress your career in the Optical sector in more senior positions. It's also highly rewarding because you'll be able to provide support and help to our customers to resolve people with their vision problems.
Optical Assistant training
This may sound daunting but don't worry – we'll support you in the training you to learn the required skills. We also offer an Apprenticeship scheme for Optical Assistants to introduce people to the Optics industry and more widely in the industry there is a new Optical Assistant Apprenticeship by Training 2000, which aims to supply independent practices with government-funded apprenticeships, Eyecare is an essential part of someone's overall health and working as an Optical Assistant allows you to make a huge difference in someone's well-being.
How to thrive as an Optical Assistant
To succeed as an Optical Assistant, you'll need to enjoy working with lots of different people and working as part of a team. It's a role that requires positive energy, attention to detail, as well as tact and diplomacy. You'll need to be good at making customers patients feel welcome and valued so that they choose to visit us again.
Working as an Optical Assistant on the shop floor gives you a great commercial understanding of the eyecare profession too. There are lots of opportunities to progress in the future and move into roles such as Dispensing Optician and Clinical Optometry Support.
Are you looking for a new role with Vision Express?
If you're looking for a new role as an Optical Assistant, Vision Express is here to help. We understand what it takes to succeed in the eyecare profession and we're truly committed to helping our colleagues grow and improve. We make sure that those who work with us have everything they need to be successful. We do this by offering continual learning and development programmes so our colleagues can achieve their goals. So, now you know more about the role of an Optical Assistant, why not apply for one of our job opportunities today?
Browse our roles today and contact us for more information.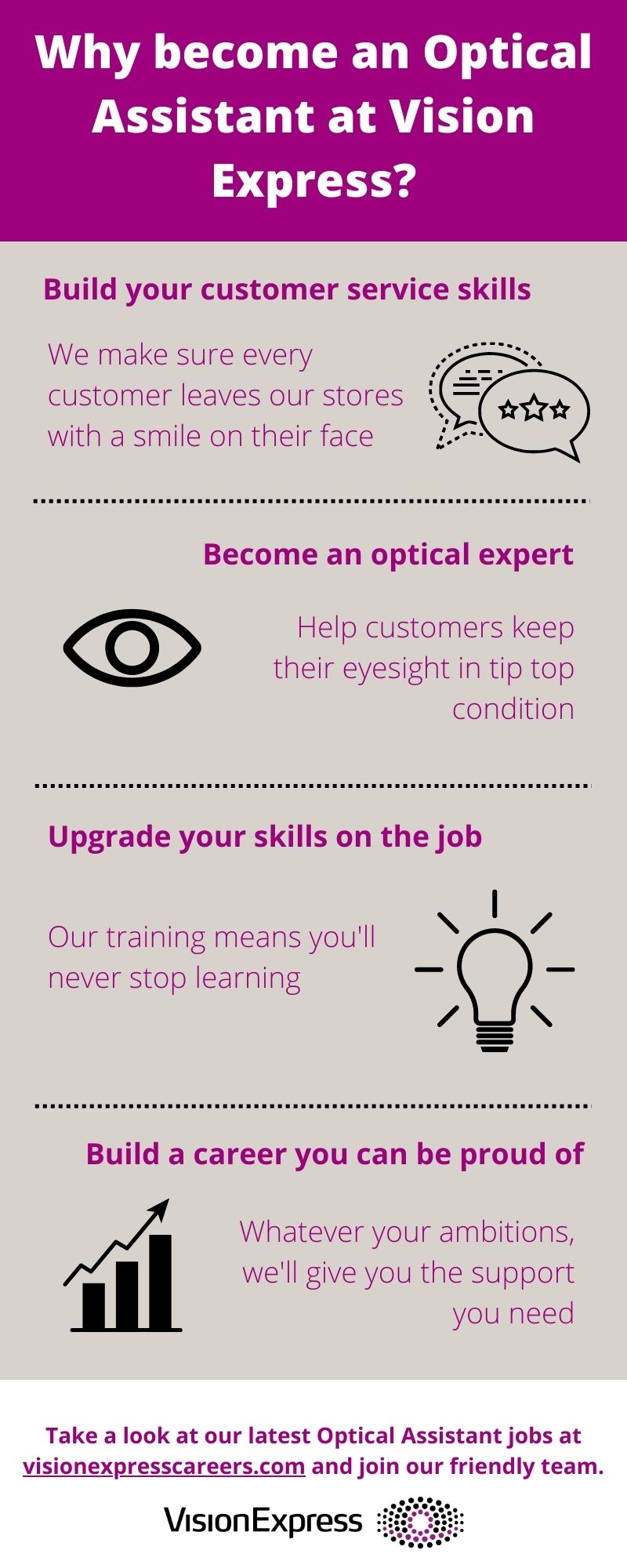 posts
Life at Vision Express

Starting in Optometry? What to include in your CV
Summary
Optometrists are professionals with a lot of knowledge and as an optometrist, your CV needs to reflect that. Your CV is how you get your foot in the door and is your first impression on your potenti





What equipment is used in a standard eye care test
Summary
When you think back to your last eye care test, what does your memory conjure up? You probably remember being asked to look at a Snellen eye chart and list off the letters as they decrease in size w




View All News