How Optometrist Store Manager Alun has shaped his own success
Optometry is an ever-changing industry with plenty of directions to take your career. That amount of choice means you can shape your career to what you want. But it can leave you questioning which direction is the right one to head in.
We sat down with Optometrist Store Manager Alun Crees to hear about his career path so far and what brought him to Vision Express. We found out that one of the many things that have kept Alun at Vision Express is the balancing of clinical and retail work. In other words, the role is diverse, and there's a lot more to it than a traditional Optometrist job.
If you're interested in finding out more about the role and Alun's optometry career you can find you'll want to keep reading. And don't forget to explore optometrist jobs at Vision Express to see if there's a role that's just right for you.
Can you tell us about your career journey at Vision Express so far?
I joined a year ago from another high street optician as I was looking for career progression whilst broadening my horizons. I was pleased to learn that Vision Express offered the OSM role with several weeks of in-house training.
The next year was brilliant. We achieved some great results despite many challenges, but we did it - much of it down to the support of my regional manager Jon. I've definitely learned a lot more than I thought I would, and the transition from Optometrist to OSM has elevated my confidence further than I expected. There's still lots more to learn though!
What has kept you at Vision Express?
The support and the clarity of what Vision Express wants to achieve. The role no doubt treads the line between clinical and retail work, but it's always been clear that you keep one foot on either side of that line. That said, you know that you need to prioritise clinical needs - it's a reason to feel comfortable working for Vision Express.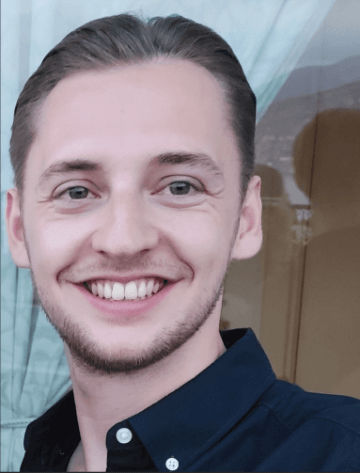 What do you think is the reason for your success at Vision Express?
Being an OSM means that you get to shape the store's culture. Whilst it has taken me time to fully comprehend, the influence you have as an OSM means you can elevate the store to a new level of success.
What is the next step in your career?
Right now, I'm keen to explore roles outside the test room. Whilst there are opportunities to gain qualifications and pursue new clinical work, I've enjoyed seeing the effects we can have on the shopfloor teams. It really is magic seeing how the expert recommendations we provide end in the patient getting the best pair of glasses or contact lenses for their needs.
I'm currently broadening my horizons to see how I can better influence the way our teams on the shop floor and in the test room perceive the impact they're making. I'm glad to have had a warm welcome from a colleague in HR, Sian, in exploring possibilities to pursue this.
If you could give one piece of career advice to your younger self, what would it be?
Slow down. I was keen to progress and reach certain milestones. I zoomed from being an Optical Assistant, to University, to Pre-Reg, to registered Optometrist and now OSM. I was goal and result-oriented, and this served me well to get to where I am. But I'm pleased to find Vision Express taking the time to help me explore roles that allow me to hone in on my passions so that I can be as happy and successful as possible. Perhaps if I'd slowed down a little before now, I'd have had a better idea sooner!
When you're not at work, how do you like to spend your time?
I took Jon's advice to keep making plans to balance hard work with fun. So you'll often see me visiting National Trust properties for calm strolls, going to zoos and go-karting tracks, and trying new things like pottery or clay pigeon shooting.
I still need the odd night of simple Netflix and snacks, but we keep making plans to do something!
Explore more colleague stories like Alun's
If you liked learning what brought Alun to Vision Express and why he chose to grow his career with us, you might be interested in other colleagues' stories. Graeme, for example, joined us as an Optometrist, and it wasn't long before he was managing his own team as an Optometrist Store Manager like Alun. You can learn more about Graeme's move from locum to resident and how he's built an impressive Optometrist career.
posts
Life at Vision Express

Starting in Optometry? What to include in your CV
Summary
Optometrists are professionals with a lot of knowledge and as an optometrist, your CV needs to reflect that. Your CV is how you get your foot in the door and is your first impression on your potenti





What equipment is used in a standard eye care test
Summary
When you think back to your last eye care test, what does your memory conjure up? You probably remember being asked to look at a Snellen eye chart and list off the letters as they decrease in size w




View All News