Dan's career path from Part-time Laboratory Technician to Director
It's no secret that we're proud of our game-changing leadership. The people that lead our teams are both ambitious and inspiring. They know how to rally their team together so that everyone is contributing to our number one goal - creating joy in vision.
However, the career paths of our leaders might surprise some. Let's take Dan McGhee - our very own Director of Professional Service. Dan's been with the company for almost 20 years. He joined us in 2004, long before we acquired Tesco Opticians and way before Marvin the Mole came onto the scene.
It's fair to say that Dan has seen the company go through a good amount of change, but he told us that he's never been more excited about what's in store for the company. If you're interested in Dan's career journey and what has got him so fired up for the future, check out what he had to say.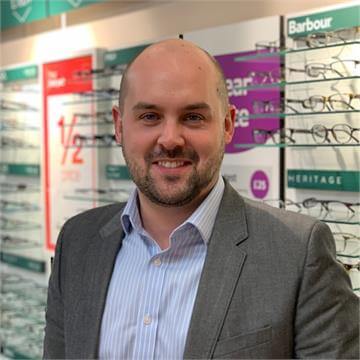 What brought you to join Vision Express?
I originally joined Vision Express in 2004 in a part-time role while I was at college studying for my A-Levels, with a plan to become a sports psychologist.
What is the main reason for your success in being promoted from a Part-time Laboratory Technician to a Director?
The main reasons were my work ethic - I have always worked my hardest for Vision Express - and my willingness to move around geographically and into new roles quickly. I was extremely keen to learn new skills and take opportunities I wasn't quite ready for. At Vision Express, if you're willing to put in the work, they will ensure you develop the skills you need.
What's also been hugely valuable is my ability to understand both the clinical and commercial sides of our business and communicate these amazing elements to all stakeholders of the business.
What are the most important qualities in a Vision Express colleague?
Being customer-focused and team-focused.
What has been the proudest moment in your career at Vision Express?
Some of the proudest moments in my career have been working with our customers and colleagues in-store. There have been so many times in my career that a customer has revealed that the reason for visiting a Vision Express store is because they "need a thorough eye test". This consideration makes me feel immensely proud.
If you could give one piece of career advice to your younger self, what would it be?
Be more patient, enjoy the current role that you are in, and be less hard on yourself.
What aspect of Vision Express' future are you most excited about?
In 18 years, I have never been more excited about Vision Express' future. Following the integration with Essilor Luxottica, we'll be able to deliver a phenomenal customer experience that will allow our customers to see more and be more.
Explore careers at Vision Express
Are you looking for a career that will challenge you? If the answer is yes, you couldn't pick a better company than Vision Express. You can be sure that your leaders will encourage you to develop and take that next step, just as Dan's did. They'll support you to be at your best, and help you find the direction you want to take your career in.
Whether you're a qualified optometrist or your experience lies solely in retail, we think we could have something perfect for you. Explore our Eye Care Professional roles or Retail careers, and you'll see how rewarding it is to work with a high-achieving team, under brilliant leadership.
posts
Life at Vision Express

Starting in Optometry? What to include in your CV
Summary
Optometrists are professionals with a lot of knowledge and as an optometrist, your CV needs to reflect that. Your CV is how you get your foot in the door and is your first impression on your potenti





What equipment is used in a standard eye care test
Summary
When you think back to your last eye care test, what does your memory conjure up? You probably remember being asked to look at a Snellen eye chart and list off the letters as they decrease in size w




View All News