Ashley's journey from Optical Assistant to Assistant Store Manager
Are you searching for a job that is challenging yet stimulating? Then you've got at least one thing in common with Ashley. Ashley joined Vision Express in 2018, starting out as an Optical Assistant.
He's now an Assistant Store Manager, a role he could hardly have imagined doing four years ago. During his time at Vision Express, his confidence has gone from strength to strength. Now he's proud to be the person others go to when they need help.
If you're interested in a career in optics and where it could lead you, you'll want to hear what Ashley had to say about his experience.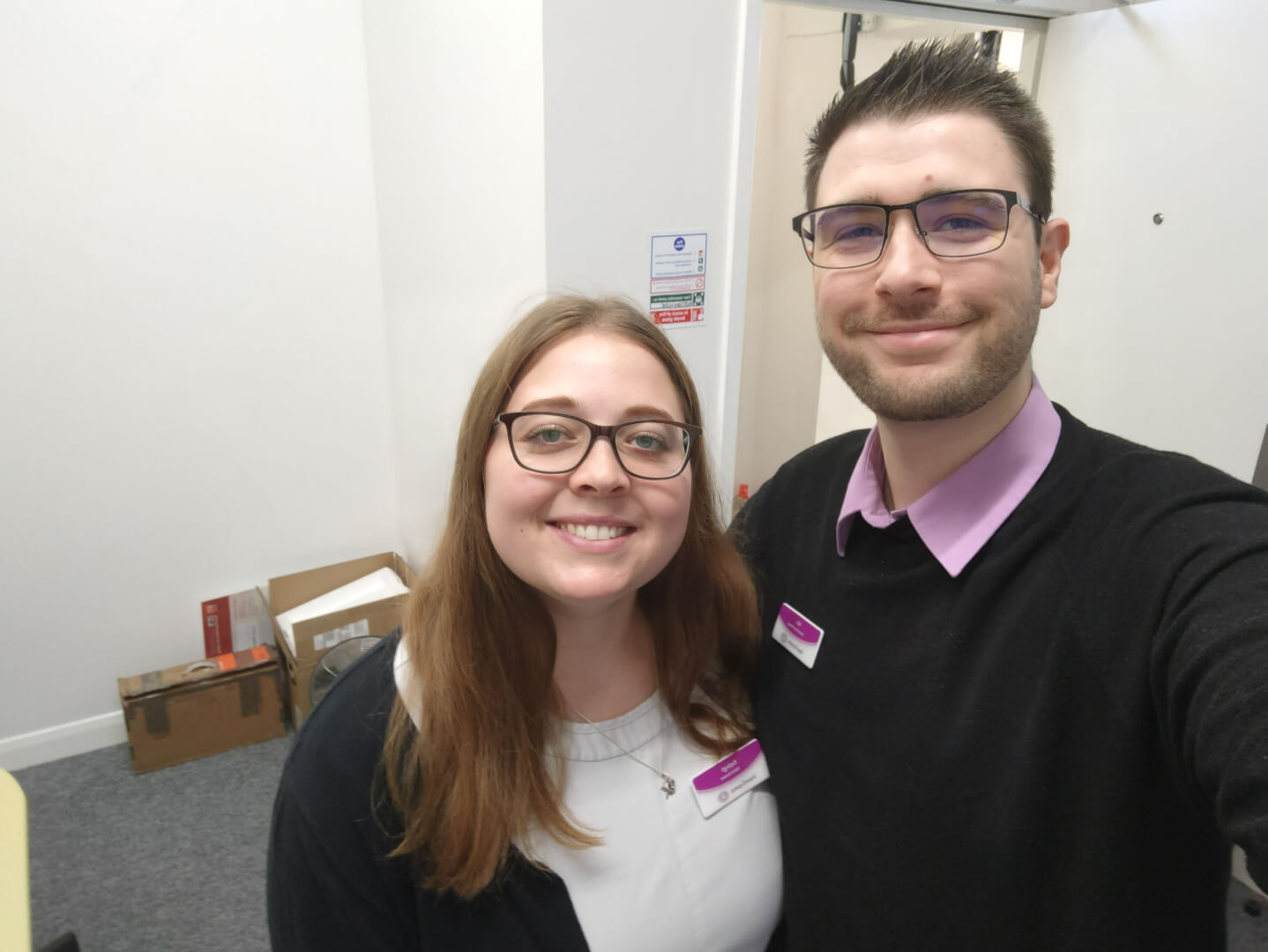 "I wanted more of a challenge"
Ashley wanted to mix things up, so to speak. He was working in a supermarket at the time, and everything was pretty much the same day-to-day. The decision to go out and look for something different is what led him to us.
Ashley's not our only colleague who was seeking a career change before joining Vision Express. Emma came to us in search of something new and soon found that no two days are the same at Vision Express. She hasn't looked back since joining the team.
"I had quite a few confidence issues, but the team made me excel"
When Ashley started as an Optical Assistant, he doubted whether he was up to the job. He never thought he could work in optics before, where you need to know about varifocals, anti-reflection and more. But his team helped him through, and now look where he is!
"I like all the different subjects you can learn and limitless learning"
Ashely's favourite thing about being an Optical Assistant was the amount of knowledge he gained. It wasn't like his last role, where every day seemed the same as the last. Being new to the world of optics, he had a lot to learn and soon realised how much he enjoyed grasping new things.
"I like being someone to turn to if they need help"
When an Assistant Store Manager job came up, Ashely knew he had to go for it. He was confident he could do it and clearly, his managers were too because his application was a success. Although he was once comforted by knowing he could rely on his manager if he didn't have the answer, he now relishes being that go-to person. He never expected to run a shop floor, manage customer queries and delegate tasks. But here he is, ready to take on whatever the day throws at him.
"I feel that Vision Express values their colleagues"
When we asked Ashley why other people should consider bringing their careers to Vision Express, he said simply because the company values its people.
We have a culture that'll support you to be at your best. There are so many career paths you can take. If you consider yourself to be a high-achiever - an essential quality of an Optical Assistant - we'll give you every opportunity to develop your skills.
"I met my other half, who I happily work and live with"
Ashley has a lot to be proud of since joining Vision Express. He faced some doubt when he first joined. But a few years down the track he secured the Assistant Store Manager position - a role he threw himself into. He can say without hesitation that he's learnt a lot and accomplished more than he ever thought he would. But the cherry on top has to be meeting his partner.
Come and be a part of our journey
At Vision Express, we wholeheartedly believe in creating opportunities to stretch our colleagues. That's not to say we'll throw you straight in without support. Our "NO LIMITS" onboarding journey will ensure a smooth transition into the business. Plus, you'll have a whole network of colleagues who you can reach out to for a chat.
Are you ready to make a difference? Browse our Optical Assistant roles, and we'll help you curate a career to be proud of.
posts
Life at Vision Express

Starting in Optometry? What to include in your CV
Summary
Optometrists are professionals with a lot of knowledge and as an optometrist, your CV needs to reflect that. Your CV is how you get your foot in the door and is your first impression on your potenti





What equipment is used in a standard eye care test
Summary
When you think back to your last eye care test, what does your memory conjure up? You probably remember being asked to look at a Snellen eye chart and list off the letters as they decrease in size w




View All News