What does a pre-registration Optometrist supervisor do?
Maybe you've heard about a pre-registration Optometrist supervisor role. But what do they do? Every pre-registration Optometrist is assigned a dedicated supervisor. It's their job to guide pre-reg Optoms through their placement and make sure they have all the support that they need.
Did you know that the first-time pass rates for our pre-reg Optoms are above the national average? We like to think that it's a mixture of finding the very best people and then matching them with knowledgeable and supportive tutors.
But that's enough from us. We spoke to Vaneesha, a Pre-Reg Supervisor at Vision Express, to get an idea of what she does day-to-day and hear her advice for anyone eying up the role themselves.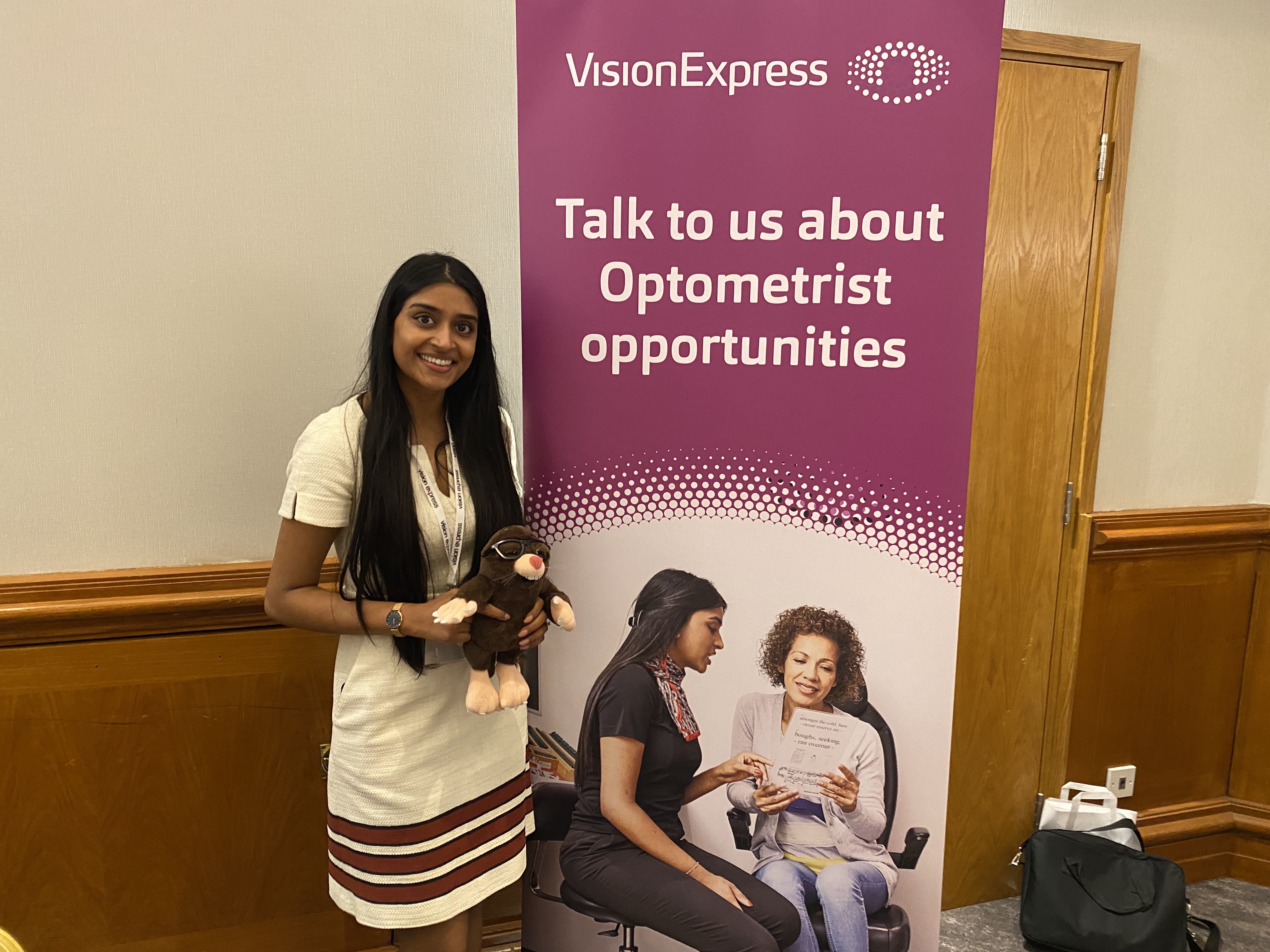 When did you join Vision Express?
"I have been with Vision Express for five years now. I joined as a newly-qualified Optometrist shortly after completing my pre-reg at an Independent optician."
But Vaneesha was eager to get her career moving.
"Since then I have completed the Minor Eye Conditions Service (MECS) course and I am now a pre-registration supervisor."
What does a typical day look like for you?
"My day-to-day duties involve managing my own clinic alongside supporting my pre-registration Optometrist."
There are two sides to managing a clinic - customers and colleagues. You'll do everything that you can to make our customers feel special and cared for. Meanwhile, you'll create a high-achieving environment so colleagues can deliver an experience that creates joy in vision. Vaneesha helps her pre-reg Optom do this by ensuring she's always available to check on them and their patients.
"We all did our pre-reg training at one point, so I know I always need to be approachable so they can ask questions at any point."
And once all the customers have been seen to, it's time for her and her pre-reg Optom to reflect on the day.
"To finish up the day, we have a quick catch-up about what's happened at the clinic."
What is your favourite thing about being a pre-registration supervisor?
"Being a pre-reg supervisor keeps my clinical knowledge up to date and keeps me on my toes. We're all human and we don't know every single clinical condition. But I think being a supervisor has highlighted the areas I can improve in, which helps me better myself.
The most rewarding element of my role is being able to share my own clinical skills and knowledge and knowing that is helping the next generation of Optometrists."
What is your next career move?
"The next step on my career journey is to do the medical retina course."
Like all our other colleagues, Vaneesha isn't stopping still. She's got her sights set on learning more skills. The medical retina course she mentioned will teach her a whole host of things, including macular degeneration, diabetic retinopathy and other vascular/retinal disorders. And Vision Express is here to support her through the training.
What's your advice to anyone thinking of becoming a pre-reg supervisor?
"I would say go for it! The doubts that are stopping you will soon go away once you start and see what a difference you make for someone doing their pre-reg."
How are you supported in the role?
"Vision Express supported me by providing training before I started. We get a one-hour slot of protected time a week. This gives me the time I need to catch up with my pre-reg Optom, chat about how they're getting on and if they've got any problems."
As Vaneesha explains, we'll make sure you've got the time set aside in your week to check in with the pre-reg Optom that you're tutoring. Then we leave it up to you to decide if you want to do some mini catch-ups in the week.
Browse the latest optical jobs at Vision Express
At Vision Express, we believe in creating something special for everyone, whether that's our customers or our colleagues. Our customers trust us to take care of their eyes, so we need people who are committed to providing the best service possible. Do you think you're up to the job?
If the answer is yes, then jump straight into our optical jobs. We have a range of roles, from Pre-Registration to Optometrist , and Optical Assistant to Store Manager .
If you're unsure about the recruitment process, don't worry. Our team has years of experience in optometrist recruitment. So they'll give you all the information you need and support you every step of the way.
posts
Life at Vision Express

Starting in Optometry? What to include in your CV
Summary
Optometrists are professionals with a lot of knowledge and as an optometrist, your CV needs to reflect that. Your CV is how you get your foot in the door and is your first impression on your potenti





What equipment is used in a standard eye care test
Summary
When you think back to your last eye care test, what does your memory conjure up? You probably remember being asked to look at a Snellen eye chart and list off the letters as they decrease in size w




View All News